Don't fall into the trap of using images from your website for printing purposes. Any local printer in sheffield will just tell you that you are wasting your time and any leaflet / poster or brochures will just look shabby. The higher resolution (larger file size), the sharper the image will be. For all your images, be they black and white or full colour;  they need to be at least 300 dpi (dots per inch), at the correct print ing size, for crisp, clear results. Lower resolution images appear fuzzy, jagged and blurry.
Do not use images on websites for any of your printing.
Images on the web are generally set at 72dpi, not 300 dpi which is needed for a crisp image.
A sharp image at 300 dpi, looks good on a poster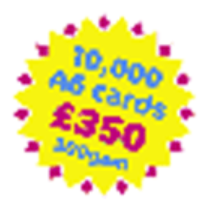 A low resolution image doesn't
Resolution for printing rules:
 
Images need to be at least 300 dpi (dots per inch) at the final size in any leaflet, poster, menu or brochure.
Images which include text should be even more, probably 400 dpi at the final size in any printing.
Image resolution and it's size are inversely proportional to each other. Enlarge an image and the resolution decreases; reduce an image, then the resolution increases.
Low resolution images printed on any material, even stationery will appear fuzzy, jagged and blurry.
The settings used during the original "capture" of your image (eg: scanners, digital photographs, or photoshop images) determine its base or final resolution. Resolution can then only be improved by decreasing the image size, or by recapturing the image at a higher quality setting.
While computer monitors generally have a display setting of 72 dpi; recommended minimum resolution for printing anything is 300 dpi.
 
Things to avoid with Image printing:
 
Most web images, which are predominately low resolution (72-96 dpi) GIF or JPEG files. This resolution is good for your website and for quick transmission over the internet, but is not acceptable for use in printing. Do not save images or graphics from a website to use in your print project!
Upsampling. This is when a low resolution image is saved to a higher resolution with no changes in dimensions. Upsampling adds more pixels/dots per inch (dpi), but creates blurry images, with ugly blocks of colour, and high contrast in images.
If you have any further questions, please email us , call us at our Sheffield office on 0114 275 4258 or visit our homepage for more info http://www.221print.com. Alternatively if you live in sheffield, or South Yorkshire and are keen to get some publicity materials printed, why not pop into our offices based at S3 9SR